Stainless Steel
I recently acquired a source where I can purchase GORGEOUS stainless steel items very reasonably and pass the savings along to you! This stuff is STUNNING and highly polished unless obviously a brushed finish or otherwise noted. Most of this stuff will have to be ordered, so please allow extra time. But I do have several nice pieces here that I can get out to you right away! You will NOT be disappointed, believe me!
The ordering will be a little different ... please note the number, quantity and size and me. I will send a paypal request including the postage. The items that I DO have here, I will display with the paypal buttons for immediate purchase on the left
. This is good quality stainless steel so you don't have to worry about it tarnishing. The 24" men's necklace is a WEAPON ... very heavy! Don't be afraid to purchase these items, I didn't hand make them, but the quality is OUTSTANDING and I'm proud to be able to offer them to you, my valued customers!
So, without further delay, here are some offerings:
Click the pictures to see larger images
NECKLACES + BraceleTS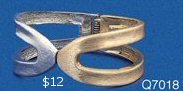 Please keep in mind, the items NOT listed on the left with paypal buttons, must be ordered and could take a while because I have to order a minimum amount to receive just one item.