Testimonials
Do you have a story to tell about your BATTLEBEADS ROSARY?
Please share so all may be encouraged to pray more and draw nearer to the Sacred and Immaculate Hearts!
I've received many very nice comments about my work and it was suggested to me to have a page where folks might send in testimonials and perhaps even a pic of themselves with their rosaries ... so here it is! If you'd like to contribute here, just use to let me know :) or feel free to sign the Guestbook

Feel free to send pics of yourselves with your items :) Please keep pics on the small side or send the url to where you have them already hosted. Thanky!



I ordered Chaplet of Reparation this evening from Battlebeads. Impatient to get the beads to pray, I tried to look up the estimated delivery date if there was one. Went back to Battlebeads.com and found a link to First Class Relic. Curious to see what that said, I clicked it and to my amazement found myself looking at a picture of Blessed Fr. Seelos. I have a very deep devotion to this amazing priest. Not sure how I 'discovered' him, but I was so taken with his service to God. I use his rosaries to pray. He is special to me and I think he sent me to your site so that I could have something that is blessed by him. Thank You and God Bless you. ~Reva P., New Bern, NC

I don't have a picture of the rosary I bought 6 years ago going on 7, but I wanted to let you know that it is still in use and is my favorite to use. I bought it to replace one that I had purchased from a local Catholic Supply store, that broke within a short period of time. My BattleBeads rosary has lasted over 3 times longer than the commercial rosary that cost twice as much! YBiC, ~Jim C., Coralville, IA


"Mary, Rosary arrived today. I love it! And thank you for the bracelet too! Bless you" ~Lexie Y., Thermopolis, WY

"Wow! These are gorgeous, Mary!!! I love them and so will my daughter's teachers. Even more beautiful than I expected :) Thank you so very much." ~Michelle H., Atlanta, GA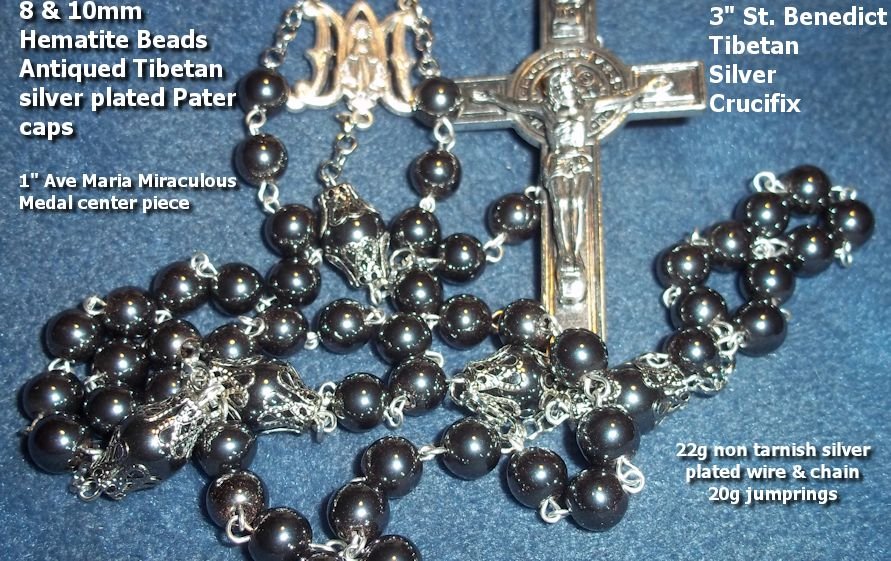 pic
"Hello Mary, I just received the beautiful rosary that you so lovingly made. They r beautiful. Thank you also for all of those special cards that you have enclosed. And you are right they are very heavy. But ever so nice. If anyone I know needs any of your products that you make I will surely recommend you. God Bless You Mary" ~Jeanne B., Hardinsburg, IN



"... When I opened the parcel, I saw the chaplets and I found it beautifully handmade by you. I find that the chaplets are unique and you really know how to combine the medal, colour and the cross to make the chaplets more meaningful. .... It is beyond my expectation. ... I really find your work amazing and symbolic. I love the way you explain on a piece of paper on the special blessing received on the chaplets by Blessed Francis Seelos and thanks a lot for the prayer cards and the small pouch for the chaplets. ..." ~Tamara, Malaysia
"Wow!! They are beautiful! The first rosary I pray with them will be for your intentions. Thank so much!!" ~Matthew K.,Folcroft, PA



(Customer added special Crucifix for this Briggitine Rosary when received.)
"My rosary arrived yesterday...AWESOME! It is light weight and the perfect length. Most of all, the craftmanship is exquiste! Your love for our Blessed Mother and the gift of her rosary is clearly visible." ~Anthony S., Omaha, NE
"I just now opened the package you sent me. It was like Christmas! The Rosary is just so beautiful, more lovely than I ever expected! Thank you!" ~Nancy S., Batavia, OH

"Anyway, thank you very much for all you effort and fine work. The chaplet is beautiful and appears well made, I think it's the praying and human hands that make all the difference! I'm sure this is the beginning of a long and fruitful friendship.... the ring is very beautiful too! The pic online doesn't really do it full justice.... I didn't notice the beveled affect in the band until I received it.... very nice! (For an inexpensive ring it looks quite rich.) " ~William H., Austin, MN



"Thank you, Mary, so much! I'm sure she's going to love them." ~Carol B., Bridgewater, MA


"Hi Mary, I am very sorry that it took me so long to write this - but I got the beads, and they are BEAUTIFUL! Just as I knew they would be after you showed me the finished picture. Trinity is going to LOVE them! Thank you for helping me to make something so important very personal and special. I just wish I had known you when my two other sons had their First Communions. Oh well.......I know one of them is already planning on getting his own beads shortly. Thanks again, so much!" ~Carol B., Bridgewater, MA



"Received my rings. Love them! Thanks!" ~PamB., Fredericksburg, VA


"THANK YOU! Went to the UPS Store yesterday and picked up my parcels. Your envelope was there and what a pleasant and unexpected surprise to have all those other little cards and blessings included. The rosaries look lovely. Thank you. Have a wonderful Christmas." ~Dan N., Ontario, Canada
"Dear Mary, I received the beads last week & they are lovely. I can't wait to give them to my dd. I'm so glad we crossed paths on FB! God bless you!" ~Beth P., Omaha, NE



"... It is even more beautiful than I imagined it would be! Now to just get it blessed!! Loved the prayer cards too! Thank you, it is so special!!!...." ~Denise M., Sudbury, MA


"Mary, it's beautiful! I love it! And I do love the charm . . . VERY fitting! I didn't think of that! Thank you so much! And Mary, remember what Paul said, "The laborer is worthy of his wages." The Lord has blessed you with being able to do this and your work reflects your love for the Lord and our Lady. I'm also going to put your site link on my FB page and a pic of what you made. God Bless!" ~Carolyn J., Allentown, Pa




"This is beautiful! Thank you so very much for your ministry. I look forward to receiving it and having it blessed. I will order rosaries for others from you as well. I just need to think who. Thank you again. Have a nice evening." ~John C., Wilmington, DE



From the finished pic: "Hello Mary, The chaplet is absolutely fabulous, brilliant, beautiful, more fantastic than I imagined, thank you very very much, couldn't get over the photo of the finished product, you are very gifted ...." ~Michael O., Thurles, Ireland
When actually received: "Hello Mary, I received the Medjugorje Chaplet (3 sets of seven beads yesterday), and am over the moon about it, absolutely fantastic, even more fantastic to see the chaplet in reality and hold the beads, the Trinity Cross is stunning, and I love the tiny Benedict medal (that still has all the inscriptions perfectly readable on it), I also really like the Our Lady of Sorrows link pendant with the coloured Sorrowful Heart of Mary on the other side, thanks for the rosary pouch, and little prayer cards, I wasn't expecting any of those -they are so lovely, You've given me a great weapon from Heaven from Our Lady, I'm certain Rosary Makers will have a special place in Heaven, it's a calling from God Himself, wow I didn't know it would be blessed with a relic from Blessed Francis Xavier Seelos, (I'll have to google his story) All the components are so beautiful, especially the medals and crucifix, so detailed,The first Hail Mary was for the intentions you asked for. Over in Ireland a holy man here was once told by Our Lady, 'Pray the Rosary on beads.' So, beads are very important. And the people who supply them are essential. You've given me such joy, I feel like Our Lady herself has given me a chaplet from Heaven itself. God bless you, Michael"


"I just purchased several of your rosaries and they are EXCEPTIONAL. I LOVE THEM. Thank you for such a great job. I have a question. I would like a USA Chaplet with the glass beads like are shown in the card that you sent along with the chaplet. I would definitely buy another chaplet if I could have one with the smooth, round glass beads. If not, that's fine as well. Again, thank you for creating such beautiful rosaries. I am also going to post your link on my facebook page. I have a lot of Catholic friends and a lot of my friends collect rosaries so will be happy to post your link. God Bless !!"
Additional comment by Kris from website guestbook: "Just got several rosaries I ordered. They are BEAUTIFUL !!! I couldn't be happier. I have spent two to three times as much for rosaries that are not this beautiful. I LOVE THEM !!!! Thank you so much for the great quality of work in each rosary. WELL WORTH THE MONEY !!!" ~Kris W., West Des Moines, Iowa


"Greetings once again to you, The chaplet arrived to me today all in good conditon and quite quickly also. I am totally delighted with them and they are beautiful. When I go to morning mass tomorrow morning as I did today, I shall take them with me to be blessed by our priest. I am sure he has never seen or heard of the USA Chaplet so I shall explain them to him and show him the Nihil Obstat. He is a remarkable priest and he is only 42 year old and ever so nice. Thank you again, your do beautiful work and I am in hopes I can buy the St. Michael Chaplet end of next week." ~Ivan W., Redfield, SD



"Mary, thank you ever so much for the Mother Teresa beads and the extras. I'm very pleased.
God Bless You." ~Ruth G., Sandown, NH


"All paid :) You do beautiful work and your customer service is exceptional!
I will let all my family know of your work." ~Olga H., Orland Park, IL




"Mary I got the chaplet Thursday. It's beautiful. Thank You." ~Mike S., Port Angeles, WA




"Thanks so much! That was so fast! It looks so wonderful, I love it!" ~Sarah C., Addison, Tx.


"Hello Mary, The beads were in the mail today! That was fast service. More importantly they are so very nice. I love your choices. I am not aware of anything else which has ever been touched to a 1st Class Relic that I have. What a nice touch. Thank you also for the Prayer Cards. I will remember you each time I use them. I say the St Gertrude prayer 10 times, at least, each day. We need to keep praying for the souls in Purgatory and all the lost souls on this earth." ~Ruth.S, Middletown, OH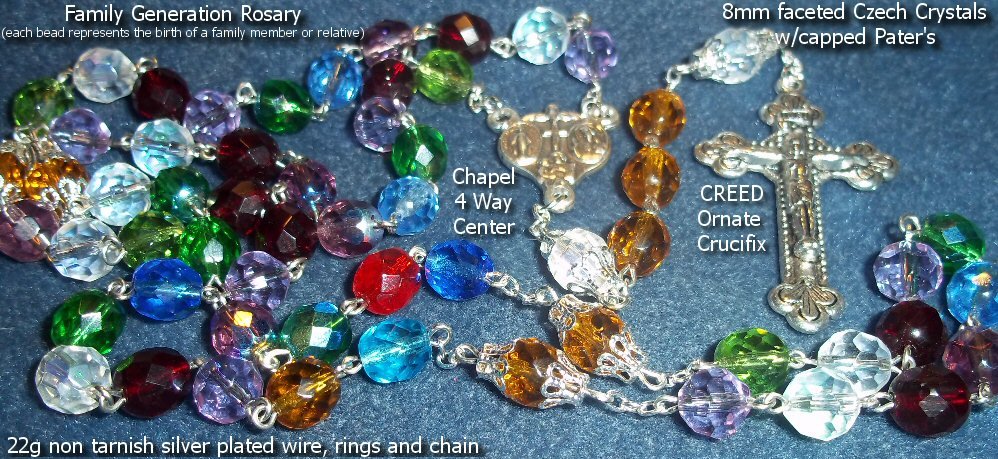 "Mary, OMG I got the rosary today and I started to cry it soooo gorgeous! .... can't thank you enough!
I love love it :):):)" ~Beth K., Berwyn, IL


"Hi Mary, I just wanted to let you know I received your beautiful beads in the mail the other day, (on the actual day of the Archangels Feast Day, and I was so very pleased about that!), I can't thank you enough! Special prayers for you and thank you again." ~Julie Ann J., New South Wales, Australia



"You have really outdone yourself, Mary. It's beautiful!" ~Denny K. Glendora, Ca.



"Dear Mary, I am extremely pleased with the Rosary you made for me. Thank your for finding a way to consider my request and fulfill it. I appreciate the prayer cards also. I say the prayer of St. Gertrude the Great each day, but the other prayers are new to me. My husband always brought me daily roses from his garden, so I enjoy having the prayer to St. Therse. God bless you." ~Diane I. Holly Springs, NC

"Hi Mary. I would like to thank you of all my heart for wonderful rosaries. Your rosaries are not just beautiful, but they are filled with love, dedication and is an act of class. I do recommend your work for others. Heaven must be smiling now, as this is so wonderful." ~Tommy K. Oslo, Norway





"It looks nice and thank you so much for the medal too. I will pray for you. I also need a 20 decade rosary and I will contact you later.
God bless you." ~Malkanthi L. Uppsala, Sweden
"Thank you so much it looks very nice." ~Malkanthi L. Uppsala, Sweden
"Hi - It's very beautiful and I am really looking forward to receiving it. The Crucifix and center is the same as I wanted. It is something special with your rosaries. I dont know how to explain. You remember the white pearl rosary [you made for me]? I like it more than my other rosaries and I often feel an urge to recite it. I prayed to Bl. Francis Seelos when I got it. I didn't know about him earlier, thanks a lot and may God bless you." ~Malkanthi L. Uppsala, Sweden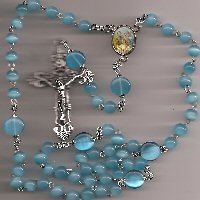 "Hi Mary, Thanks again for the rosaries, which happened to arrive to us on Our Lady of the Rosary. My husband actually was so amazed at his, and the children as well. We sat in the kids room this eve and said the Luminous mysteries, I prayed for you and all rosary makers as well. They turned out so beautiful ..... " ~Micaela S. Wilton, Ct.

"Dear Mary, Thank you so very much for the beautiful work on my order. The chaplets were even more gorgeous once I held it in my hand. I am truly blessed by your fine work. Every piece was beautiful. I also want to thank you for something you included in the package--the St. Therese prayer card with the gold rose. I don't know if I had mentioned it to you during our emails, but St. Therese is truly a dear friend to me. During the week that you and I went back and forth over email I had been in the middle of a novena chaplet to St. Therese for a very special intention. As you know, the sign of a rose is quite often a sign that St. Therese has heard one's prayers. Well, Saturday was the last day of the novena. I spent most of my day taking a standardized exam and got home a little past 5pm. There I saw the package from you and found the prayer card with the rose. I believe that that small rose was a sign from St. Therese of prayers heard. Whatever prompted you to include it in the package...I thank you." ~Angelica Q. San Francisco, Ca.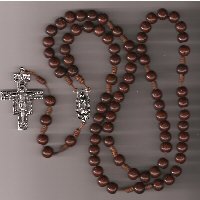 Hi Mary, I received the Crown rosary yesterday and I have to say that I am very, very pleased with it.
Great job! Thank you so much. ~George - Cleveland, OH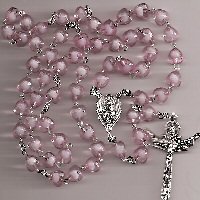 "I got my package today - that was a quick delivery; the mail usually isn't that fast! I loved everything. The bracelet fits really well, I always have trouble because my wrist is so small, but it looks nice. I really like the turquoise. The St. Francis medal was delightful - I love the way he's leaning over petting the dog - I have three dogs so I definitely appreciated the detail in the medal. The St. Therese niner was awesome - lovely medal and the beads are so feminine and pretty (she was my chosen saint when I had my confirmation many years ago). St. Joan of Arc - wow, love the cloissone! My chaplet is very pretty too - the beads look like aqua moons . And the rosary is prettier than I imagined - I absolutely love it. Thank you so much - your work is really lovely." ~Lyndell C. Arabi, LA






"Hi Mary I received my chaplets last night and I'm just thrilled to bits!!! You do not disappoint. All four chaplets are beautiful, but I think the Five Wounds and Holy Spirit are absolutely wonderful. Again, I'll say your work is inspired! Thanks for a job well done and for the extra time you spent consulting with me over the little this and thats. You're a true gem!" ~Jacqui, Brooklyn, NY




"Got my package today and could not be more pleased. You did a great job, and thank you. The only thing that confused me about the order was that this rosary and chaplet were 3rd class relics. (I'll figure it out though.)
Again, I'm well pleased... Thank you." ~Dave M. Clarksville, TN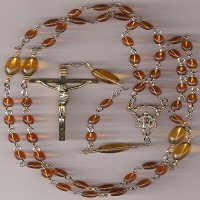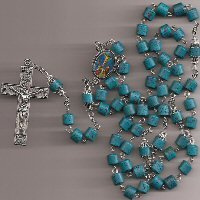 "This is a wonderful source of rosaries, if anyone has a need. They're handmade with a variety of beautiful stones. And the prices are incredible. I've also purchased several rosaries that are 3rd class Relics, blessed by a Relic of Bleesed Francis Seelos of New Orleans for several friends battling cancer. I was literally blown away when I received the rosaries, they're really beautiful, and quite a variety to choose from on the website." ~Jim A. Caledonia, IL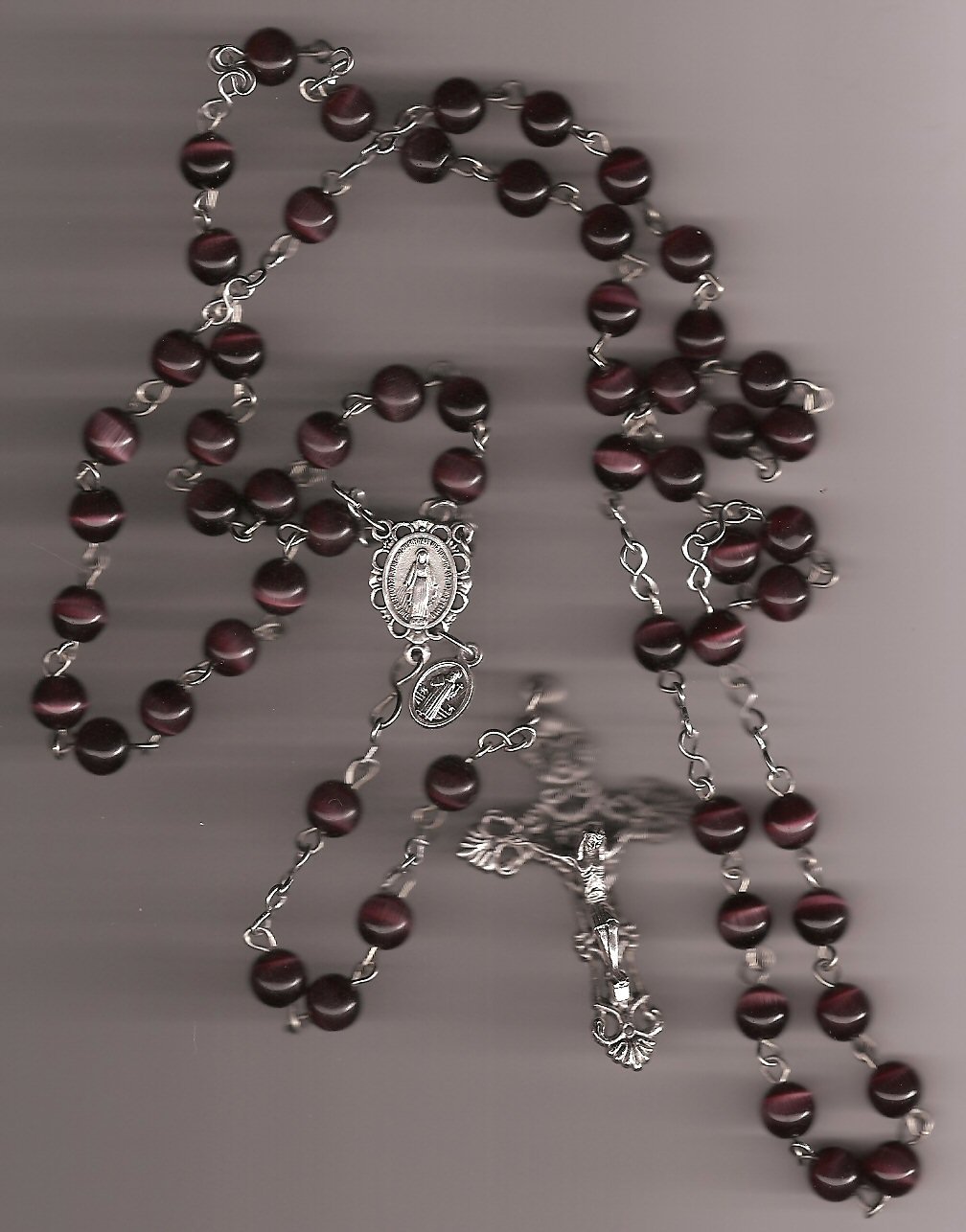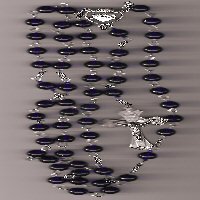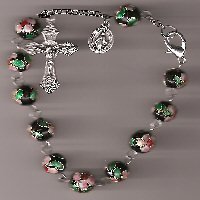 "After many years of trying to find the "perfect" rosary, I have finally found it. Mary's rosaries are handmade with beautiful craftsmanship. My purple cats-eye rosary changes in the light--it is just beautiful. The beads are smooth and the construction is strong. Mary puts a lot of herself into these. They are well worth the cost. Trust me, the pictures do not do them justice! I would recommend these for gifts and for your own personal use. Since receiving mine, I use it daily with great joy as I commune with Our Lord and His Blessed Mother. Thank you so much for your amazing work!" ~Pamela Luther,
National Roman Catholic Examiner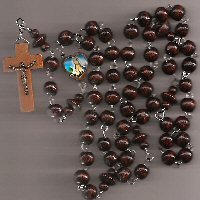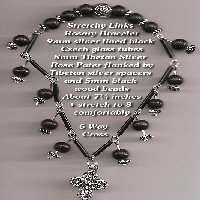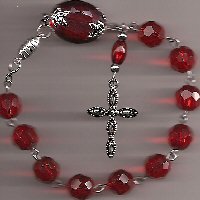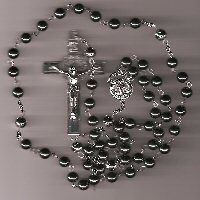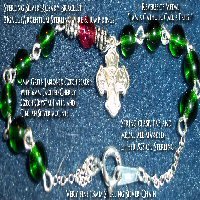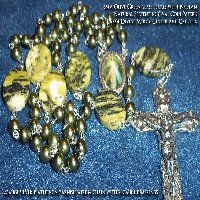 "Handmade Rosaries in my past experience have always been more "homemade" than handmade. Battle Beads has taken handmade to a level not seen before. The quality of the construction of the Rosary is unsurpassable. The most minute details are carefully crafted for function as well as form. The links are perfectly shaped and closed securely. The array of beads, crystals, (particularly Swarovski) and semi-precious stones are gleaming and brillant in nature. As nice as the photos are of the Rosaries, actually holding them in front of you, the pictures pale in comparison. I have always been a believer that Our Lady, Queen of Heaven should be honored with the most beautiful Rosaries. Battle Beads rises to this occasion with every Rosary made. I will continue to purchase these works of art for Our Blessed Mother and one day hope to see Mary's work on the hands of all those who pray the Rosary from their very soul."
~
Sophia G
., Neptune, NJ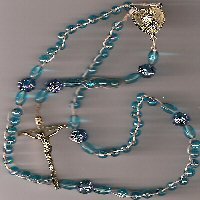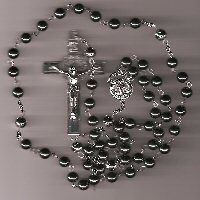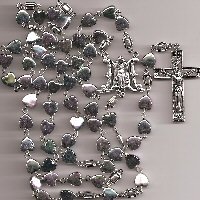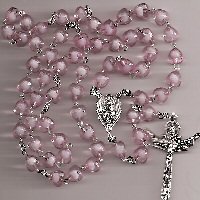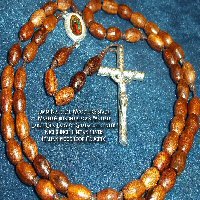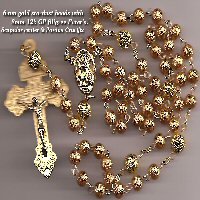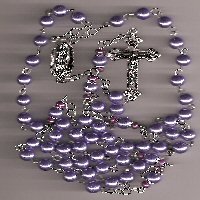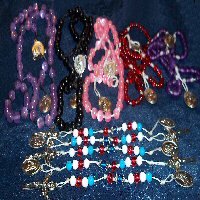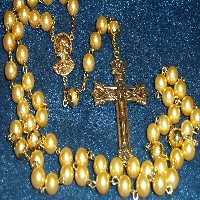 "I have recently had the pleasure of meeting Mary Margaret of BattleBeads.com. I have purchased a few of her pieces and love her work. Her work is unique beautiful and affordable. I am always breaking my beads but I find hers to be well put together and carefully created. Give her a custom order or pick from something she has already designed you won't be disappointed." ~Margaret Munck., Conway, NH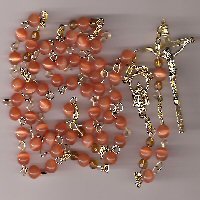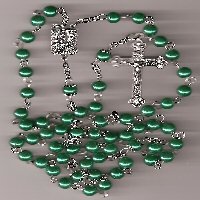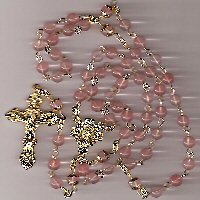 "Hi Mary - I received my rosaries yesterday in good condition and they are very well made. I especially like the orange one because the color is so unusual. Thank you for doing this - the world can never have too many rosaries!!"
"Hi Mary - Received my rosary yesterday in good condition - I really like
it - it's heavier than the others!" ~"Tigg", Catholic Answers Forum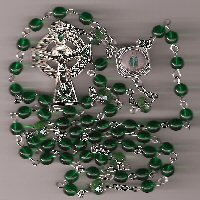 "The rosary arrived this afternoon. It is beautiful. I gave it to Karla and she loved it. We have decided to get 4 more pair of the same St. Patricks for two couples we have been friends with for a long time.
They will also love your rosaries and will use them." ~Joe H., Wall, NJ