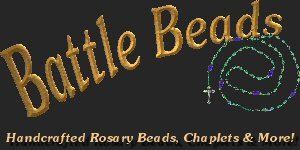 Site Dedicated to the Sacred and Immaculate Hearts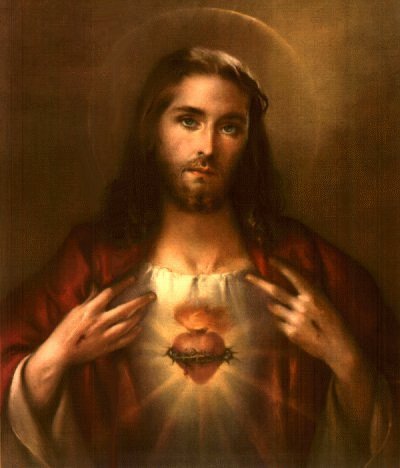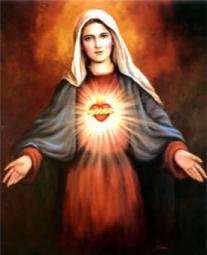 ---
Please how you found this site!


Donations gratefully accepted!

At least
10% of donations and sales are
donated for missionary work!
Masses
are
offered monthly for all customers!
Festive Christmas Rosary
pic
Just $22
Other Catholic Links


If you would like to link to BattleBeads,
here's a banner you can use:



I'd very much appreciate you downloading the banner
and hosting it yourself as I pay for my bandwith and
hosting space. Thanks!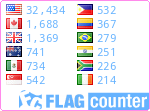 since 5/18/10


Unique & Unusual
Please note that items on this page are not kept in stock.
They will be constructed when ordered.
Please take that into consideration when ordering.
SORRY, BUT ONLY SHIPPING TO CONTINENTAL USA!
S=Silver tone - G=Gold tone - GP= Gold Plated - SP=Silver Plated~ C=Corded ~ ss=Stainless Steel ~ AB=Aurora Borealis ~ SS=Sterling Silver
Click Images for details
Made to Order - Your choice of beads and colors
6mm Hematite beads surround a 6mm oval of the same. Gem qualities: inspire peace, aid clarity, and balance. $7 wh3


Acrylic beads:

Czech druks/glass:

Swarovski Crystal Elements:

Peace Wheel Decades $4 - $10
One Inch of Power at your fingertips. Here is your pocket decade that will be used over and over and over again! The middle Pater twirls on the wire and combined with the feel of the nearby Ave's produces a very calming and peaceful effect. Hard to put down!

Pray your decades or use them for thinking or better yet, breaking bad habits like smoking! Physical addiction leaves you in just 3 days, this will help with the psychological addiction and having something to do with your hands! Certainly prayer will aid you in your quest! Please specify your choice of ANY gem stones or colors when ordering! Some other gem properties found

here

.
Stretchy Rosary Choker Fully functional 5 decade Rosary. Double crimped for durability. Stretch from middle of back decade for best performance and longevity. Details in description. Please note: BEADS & COMPONENTS WILL VARY. YOU MUST STATE ANY PREFERENCES YOU HAVE OR I WILL CHOOSE FOR YOU!
REMEMBER PLEASE ... a rosary is for PRAYER and not an 'accessory' It's permissible to wear if you have the intention to pray but not for *show*


Brigittine Rosary (6 Decades, 7 Pater's) A truly unique, substantial Rosary measuring 30+ inches to the tip of the Large 2¼ inch Crucifix. The scan does NOT do this Rosary justice.
SP d19 $55

Extra long chain and caps w/crystals - $55
Your choice of beads and colors, as always. Regular length chain, no caps, no crystals - $45




The Convertable Rosary
A series of lobster claw clasps (or spring clasps or what ever is in stock) separates the decades here to make this full rosary totally convertable to either an auto rosary or pocket decade ~ WITH the ability to convert the remaining decades to a bracelet and matching necklace! Overall length is 24" for the full rosary. With a pocket decade, you would have a 26" string left for a necklace or break it down for a bracelet and shorter necklace. VERY CONVERTABLE, limited only by your imagination! Shown: 8mm pressed Czech glass beads with wire wrapped Pater's flanked by 4mm SP acrylics. Large ornate center and 1.75" Crucifix. pic1 2 3 4
SP $26 d24



The Way of the Cross Chaplet
For those that cannot make the Stations of the Cross during Lent or those that wish an additional devotion at home or anywhere. Same indulgences apply to those housebound as if in Church. 6mm red faux cat's eyes beads with the 14 station medals each with corresponding roman numeral on the reverse side. Your choice of Crucifix and beads. 22gauge non tarnish wire and chain; 20gauge jump rings. pic1 2 Silver Medal Set: SP $30.00 d25 Full Color Epoxy Medal pic Set: SP $40.00 d30

Made to order .. please state ANY preferences.
Please note: only regular silver St. Francis centers available now.

7 Decade Franciscan Crown/7 Joys of Mary Rosary
Not in stock. Will be made when ordered. Centers will vary, please state any preferences. San Damiano Crucifix will be used unless you request an alternative. Black wood beads/cord can also be used. Please don't hesitate to inquire or suggest! If no instructions, stock will dictate materials. Beads and component parts representative, but every effort will be made to stay close to original picture and will be discussed prior to purchase for approval! Regular silver plated centers may be used if color centers not available.
C $29.00 d23 pic1 2 3

Traditionally San Damiano & St. Francis but will change center & Crucifix to your preferences.




Take up Your Cross Rosary
This Rosary is a totally new design while keeping with original count of 59 beads. At first glance, you may be a little confused ... but just "TAKE UP YOUR CROSS" and everything else will fall into place ;) 22gauge gold plated wire and 4mm Swarovski Crystal Rondelles with plated gold accents and spacers on the Pater's. Crucifix and findings are antique gold tone. A most unique piece. May also be constructed with larger round beads too!
Made to order .. please state color preferences. pic1 2 3

GP $24.99 d16




Compact Rosary
Silver 8mm Czech pearl glass beads. Shared white Pater's are flanked by Tibetan silver spacers. This rosary when prayed, shares the same Our Father bead as it goes around. The 2nd and 5th decades share the first connected Pater and the 3rd and 4th decades share the second connected Pater. The same 59 prayers are said even though the beads themselves are just 57. Open heart Miraculous Medal and large 2¼ inch Crucifix. 2nd pic

SP $17 d15




Papal Rosary
Smokey black 9mm acrylic beads with Pope Benedict XVI center piece and Papal Crucifix. Center has John Paul II on reverse side. Pater's are 6mm free-floating blue acrylic beads encased in 12mm Hematite donuts that can spin while being prayed. Tibetan silver connectors and 20 gauge jump rings make this a sturdy 24 inch Rosary.

SP $12.99 d14

Made to order .. please state preferences.

| | | |
| --- | --- | --- |
| | | Add a silver oxidized medal of Pope Benedict/JPII or St. Peter for only 75¢ more! |

"Papa's Prayers®" Addition, for any Rosary.
Attach this small addition to your rosary and never again forget to pray for the Holy Father's Intentions! (Please also pray for his strength and safety!) Attaches easily to the center piece jump ring or any link of your choice. Attaches with spring or lobster claw clasp. Specify gold or silver toned wire and plastic or glass bead color desired in instructions to seller at paypal.
(Swarovski crystals please email for invoice - $2 additional.)
Shown: Silver plated wire with 6mm purple crackle glass. SP $1.50 d8