Other Items
I will be adding to this as I come across items. My aim is to expand this area to better serve my customers.
These will be, for the most part, not made by me, but either purchased for resale or crafted by others.


Very Nice Cat's Eye's Rings - ONLY $5 each!
When they're gone, they're gone!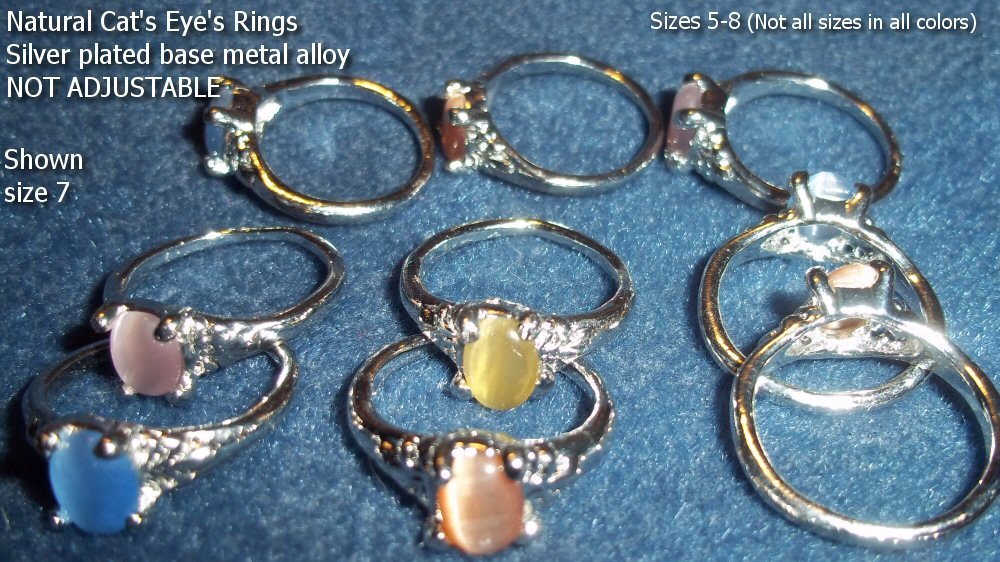 These are NOT light easy to break adjustable rings!
They are silver plated metal prong rings and should hold up quite well by the looks of them.
Best choice of color is size 7.
Other available sizes: 5-3 (orange, lilac, purple); 5½-1 (aqua); 6-2 (both aqua);
6½-4 (aqua, purple, lemon, pink); 7- ; 7½-2 (orange, lime); 8-6 (periwinkle, lemon, pink, orange, beige)
At this price, colors are as close as I can describe them. Above picture is representative of group.
These are great rings for the price!
If you need a specific color in a certain size, best to contact me first!
Otherwise, just select your size and I'll choose for you. But please feel free to to let me know your color preferences and I'll do my best! I'll try to keep this updated with the colors available.
Not many folks view this page, so they may not sell too quickly :)
PLEASE STATE SIZE IN PAYPAL COMMENTS!!
Comment area will appear near the end of your transaction, not in the beginning.

Stainless Steel Cross Ring - GORGEOUS!
r5270 $8

Stainless Steel 2 Ring Set! BEAUTIFUL!
#r5337 $10

These Rosaries below are NOT hand made. They are machine made. If you look closely, you can see some badly closed jump rings and wires. However, I got these at a very good price to pass them along and although I didn't make them, I will do my best to give them the once over and fix all I see before I pack them up .. just for my valued customers! :)
I think you will agree they are well worth the price :)

St Benedict Rosary

Per description on image.

pic

#o1 SP $5

OL of Guadalupe Cord Rosary

Per description on image.

pic

#o2 Cord $5

Uniquely Handcrafted Quilling Greeting Cards
& Decorative Beeswax Candles

Scriptural Photography: Signs & Wonders Today; by Margaret Munck
Margaret is prayerful photographer that senses Our Dear Lord in everything she sees. Early mornings are spent in quiet prayerful solitude overlooking the Mount Washington Valley of N.H. with her prayerbook in one hand and her camera in the other. Always ready to catch an inspiration graciously given by the Spirit to renew and strengthen the Faith of all who see her work. Here are just a few samples:

8x10 glossy ready for your frame; just $4.99 + $2.50 S&H


Cross His Heart by Patrice Egging Music & Ministry
Inspirational, contemplative and uplifting spiritual piano solos prayerfully composed for the honor and glory of God. "May God be glorified and lifted up for Praise and Thanksgiving. He is the Giver of ALL gifts, and I acknowledge Him as the source of all I do, especially this gift of music."
You may buy at CdBaby, itunes or directly from Patrice herself.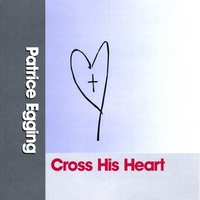 Handmade Mantillas (Crocheted Chapel Veils) by Joy
These gorgeous mantillas are making a come back, thankfully! The age old tradition of a woman covering her head in humility and respect .. what a WONDERFUL way to express your Faith! Traditional Catholic women wear the veil any time they are in the presence of the Eucharist (at Mass, when entering churches, during sick calls, etc.), when they approach the altar, and when in the presence of the Pope.
These beautifully handcrafted mantillas will last decades and can be passed down from generation to generation!
Just
$24.95
including S&H!