How to Pray the Franciscan Crown/7 Joys of Mary Rosary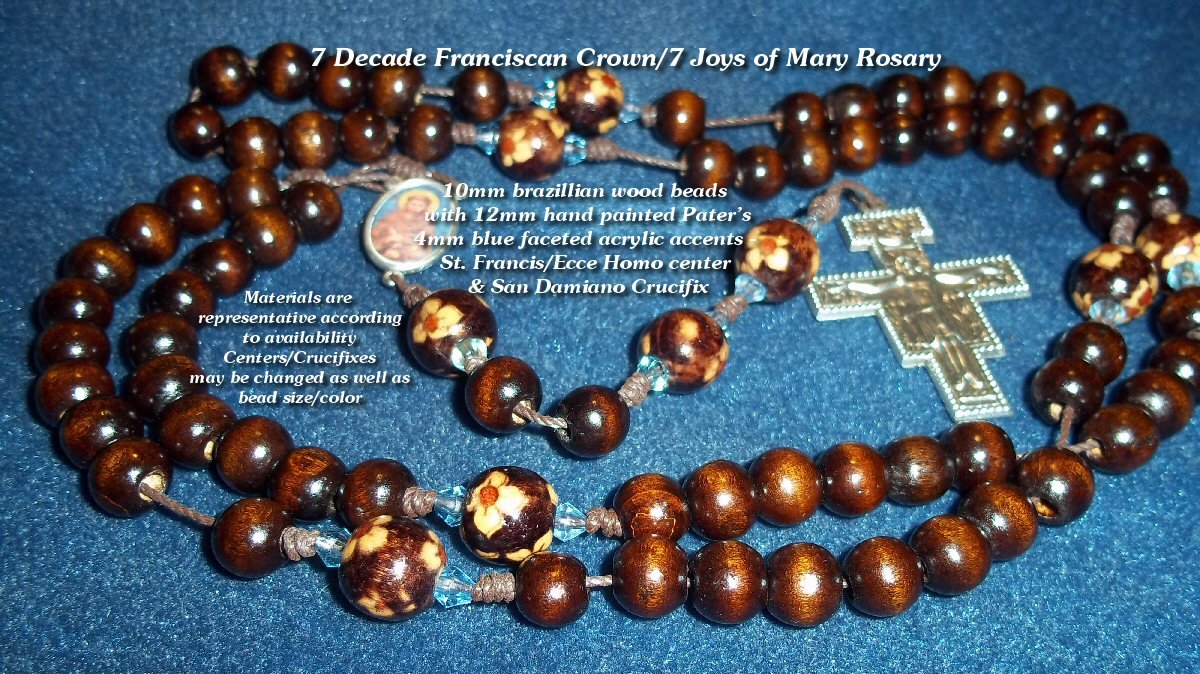 Hold your rosary beads. Make the Sign of the Cross and say, "In the name of the Father, and of the Son, and of the Holy Spirit". While holding the bead which lies just before the center piece, announce (either mentally or out load), the first mystery of the Franciscan crown.
The first mystery is the Annunciation and the Incarnation of Our Lord.


Hold the bead and pray the Our Father, also known as the Lord's Prayer. Move on to the next bead. You can go in either direction on the rosary, but tradition is to begin praying on the beads in a clockwise direction.


On the next ten beads, pray the Hail Mary while thinking about the Annunciation and the Incarnation. The Hail Mary is, "Hail Mary, full of grace, the Lord is with thee. Blessed art thou among women, and blessed is the fruit of thy womb, Jesus. Holy Mary, mother of God, pray for us sinners, now and at the hour of our death. Amen." You should pray the Hail Mary on each bead.


When you get to the next single bead, announce the next mystery and begin the cycle anew, praying the Our Father on the single bead and the Hail Mary on each of the next ten beads.


Keep this pattern until you have prayed all seven mysteries of the Crown.


After the last mystery, pray the Hail Mary again on the fourth and the third beads from the cross.


Pray the Our Father and the Glory Be on the second bead from the cross. The Glory Be prayer is, "Glory be to the Father and to the Son and to the Holy Spirit. As it was in the beginning, is now, and ever shall be, world without end. Amen."


Pray the Hail Mary on the bead closest to the cross.
The Seven Mysteries of the Crown Rosary are:
First - The Annunciation and the Incarnation of the Lord
Second - The Visitation of the Blessed Virgin to Elizabeth
Third - The Birth of Our Lord
Fourth - The Adoration of the Magi
Fifth - The Child Jesus Found in the Temple
Sixth - The Resurrection of Our Lord
Seventh - The Assumption of the Virgin into Heaven, and Her Coronation as the Queen of Heaven.